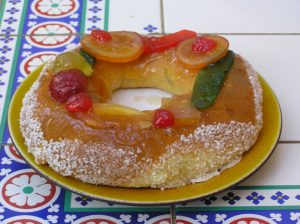 The best thing about celebrating Spain's Three Kings' Day is eating the puffy 'Roscón de Reyes' brioche cakes. They're piped with sweet marzipan and cream and topped with candied fruits that represent the glistening medallions worn by the Three Kings.
Surprise, surprise! Hidden inside each 'Roscón de Reyes' is a tiny figurine of the baby Jesus, as well as a dry fava bean. Whoever finds the the baby Jesus is crowned king or queen for the day and whoever finds the fava bean must buy the Roscón the following year.
Dia de Roscón
The Roscón de Reyes consists of a mass of flour, sugar, yeast, butter, orange blossom water and candied fruit. It has a round shape imitating a royal crown and the frosty fruit would be the jewels of the crown. In Portugal it is known as "Bolo de Rei" although it is cooked with other ingredients and in France it´s known as "Gateux des rois".
The roscón de reyes primitive, the one of the Roman time, consisted of a circular sweet made with dates, figs and honey. It was elaborated in the Saturnalia festivities, in honor of the God Saturn, that were celebrated at the end of December. In these festivities the slaves sent over the masters and the wars and the executions of prisoners were suspended. In these primitive roscones the bean was already introduced and the lucky one to find it was the king for a day.
This traditional Spanish sweet that consumes on January 6, the Day of the Wise Men. It has a Roman origin since in the 4th century the Catholic Church adapts the Saturnian pagan feasts to the new dominant religion and with it also the culinary customs.
Jamón – Spanish Ham
Jamón is the trademark of Spanish cuisine, featuring prominently in virtually every restaurant and family kitchen. As home to two types of world famous cured hams, Spain honors its Jamón as both a cultural icon and everyday indulgence. The curing process is regarded as a sacred art, with many producers honoring traditions that go back thousands of years.
The Ham
The ultimate result is a long, thin leg of ham with a deep golden hue to its fat. The meat is dark red and well marbled. We had an incredible experience in the city of Caceres. There Pedro Lancho, the owner of Encinar de Cabazón, served us a feast fit for a king. The highlight was when the professional waiter at his favorite restaurant brought out plates of his Gran Reserva Jamón Ibérico de Bellota. It was served in paper thin slices on a plate that was warmed to about 75 degrees. At that temperature the fat literally melted onto the plate. On first bite, the flavor of the ham was incredible. Sweet, nutty, and not too salty. Then the complexity of ham flavors increased. An essential part of the flavor and mouth-feel was the way the fat melted away, releasing flavors that told the story of the noble Iberico swine, of the Dehesa forest pasture, of the years of careful curing, and of the countryside of Spain itself.
The Curing Process
The 'matanza', or sacrifice, has traditionally been a family affair. A pig would be slaughtered and the whole family would gather to preserve the meat for the rest of the year. Chorizo, salchichón and morcilla sausages would be made on the spot. Choice cuts would be set aside to be eaten fresh. And the fatty legs would be packed in sea salt and hung to dry in the cool winter air. This process still continues in some towns as it has for thousands of years. And over the last century, family factories have begun curing these hams in large quantities using the same methods. The hams are left to absorb the salt for a few weeks. Then they are hung in factories that still have open windows to allow the mountain air to circulate around the hams. Iberico hams cure for two to four years. Iberico hams usually about two years, Iberico Bellota hams for longer periods. This extraordinarily long curing process is possible because of the huge amount of fat on each ham and, in the case of the Bellota hams, the antioxidant quality of their diets. Over the curing period they lose nearly half their weight as the fat drips away. An incredible transformation occurs as the winter moves to spring and summer. The salted ham starts to sweat. Because of the salt, bacteria cannot take hold, but massive chemical changes occur. The meat becomes dryer, and cools off as the second winter commences. The special aspect of Iberico is that it can go through this cycle two or three times. The result is a build up of complex, volatile molecules in the ham that transform it from a piece of pork into an orchestra of flavors. With the Bellota hams, the most miraculous transformation is of the fats. Through this period of heating and cooling, salting and drying, the fats are broken down. Because of the antioxidants in the acorns and the unique curing process, the saturated fats are changed into healthy mono-unsaturated fats high in oleic acid. The only fat higher in oleic acid is olive oil.
History of Spanish Food
The succession of cultures that one-by-one set foot on the Iberian peninsula have each left a lasting mark on every facet of Spain's culture: language, music, art, architecture and, of course, food. In fact, many people are surprised to learn just how much of a delicious melting pot Spain really is.
Geography of Spanish Food
The basis of the history of Spanish food of course has to do with its geographical situation. First of all, the country is located on the Iberian peninsula and is therefore almost entirely surrounded by the waters. Naturally, due to this fortunate location, seafood forms one of the pillars of Spain's gastronomy and categorizes the country as having a Mediterranean diet. The rest of Spain is a diverse terrain made up of mountain ranges, lush pastures, fertile farm grounds, extensive coastlines and more, which together provide quite the variety of fresh products. For example, Spain's famous hams are cured high in the mountains, vineyards and olive groves sprawl across expanses of land, and fresh fruits and vegetables hail from throughout the country.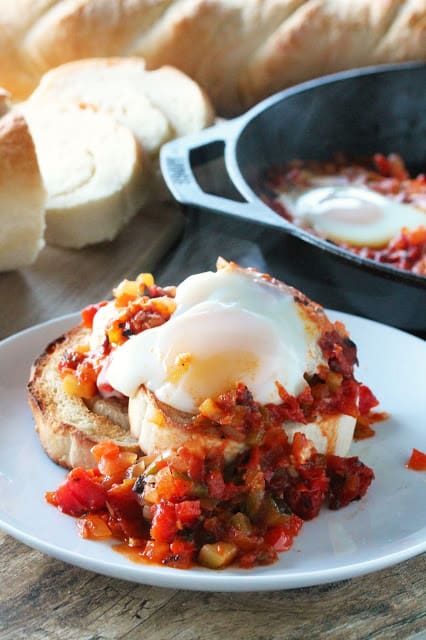 Pisto is a dish from Spain that is flavorful and full of vegetables, served over toasted bread and topped off with a fried egg. I would describe it as somewhere between French ratatouille and Middle Eastern Shakshuka, both of which are absolutely delicious. The vegetables in pisto are finely diced quite small and create an almost chunky sauce or stew. In this recipe I've kept it a one pot dish, cooking the eggs directly in the pisto. Serve this over some toasted french bread and you'll be in heaven!
Time to Make It: 35 minutes
Yield: 6 servings
Ingredients
3 tablespoons Spanish olive oil
1 onion, small dice
1 zucchini, small dice
1 red bell pepper, small dice
1 green bell pepper, small dice
4 cloves garlic, minced
2 teaspoons hot Spanish paprika
2 (15 oz) cans fire roasted diced tomatoes
3/4 teaspoon salt
6 eggs
Instructions
1. Heat olive oil in a large heavy oven-safe skillet over medium-high heat. Add in onion, zucchini, and bell peppers. Saute until vegetables are tender, about 5-7 minutes.
2. Add in garlic and paprika and saute one minute.
3. Pour in diced tomatoes and stir in salt. Bring to a simmer and reduce heat to medium-low. Simmer 15 minutes. Preheat oven to 375 degrees while you wait.
4. Create 6 little nests in the tomato mixture to hold the eggs. Crack eggs directly into the holes.
---
Stuffed Mussels (Mejillones Relleñadas)
25 mussels, cleaned and debearded
3 tablespoons butter
1 tablespoon olive oil
1/2 onion, diced
2 cloves garlic, crushed
1/4 cup ham, finely diced
1/4 cup flour
1/4 cup white wine
3/4 cup milk
3 tablespoons chopped parsley
grated parmesan cheese to top
salt and pepper to taste
Place the mussels in a pot of cold water and bring to the boil. When they are open, remove from the heat to cool. Be careful not to overcook. When they are cool enough to handle, remove the meat and chop (not too finely) and reserve half of the mussel shell.
Heat the butter and olive oil in a sauce pan and add the onions, salt and pepper. Add the garlic and cook until translucent.
Add the ham and cook for another 2 minutes over medium heat.
Add the flour and cook out for a few minutes, then add the white wine and cook for two minutes, and then gradually add the milk.
Add the chopped mussel meat and the parsley.
Place a spoonful on the reserved mussel shell.
Top with parmesan cheese and bake in a 180c (fan forced) oven for 10 minutes until the cheese has melted.
---
CHURROS CON CHOCOLATE
INGREDIENTS:
1 cup water
2 tablespoons white sugar
2 tablespoons butter, melted
1 teaspoon salt
1 cup all-purpose flour
2 quarts vegetable oil for frying
INGREDIENTS (TOPPING)
1/2 cup white sugar, or to taste
1 teaspoon ground cinnamon
INGREIDENTS (DIPPING SAUCE)
1/2 cup semi sweet chocolate
2 tablespoons heavy cream
DIRECTIONS
In a small saucepan over medium heat, combine water, sugar, salt, and butter. Bring to a boil and remove from heat. Immediately stir in flour and mix until it forms a ball.
Heat oil for frying in deep-fryer or deep skillet to 375 degrees F. Pipe strips of dough into hot oil using a pastry bag. Fry until golden (about 10 minutes, constantly flipping); drain on paper towels.
Combine 1/2 cup sugar and cinnamon. Roll drained churros in cinnamon and sugar mixture.
For dipping sauce, melt the chocolate over a double boiler and add the cream. Stir to combine. For a thinner sauce, add more cream.
For the sauce
3 tbsp 2 tsp sweet pinch
Method
Prepare ahead by heating the oil in a pan, add the onion and fry for about 5 minutes until softened. Add the garlic, tomatoes, tomato purée, paprika, chilli powder, sugar and salt and bring to the boil, stirring. Simmer for 10 minutes until pulpy. Set aside for up to 24 hours.
To serve, preheat the oven to 200C/gas 6/fan oven 180C. Cut the potatoes into small cubes and pat dry with kitchen paper. Spread over a roasting tin and toss in the oil, then season. Roast for 40-50 minutes, until the potatoes are crisp and golden.
Tip the potatoes into dishes and spoon over the reheated sauce. Sprinkle with the parsley. Serve with cocktail sticks.


---
---
Gaspacho
1 Cucum
1 onion, peeled and halved

Prep time 30 m- Ready In 2 h 30 m

Directions
In a blender combine one tomato, half the cucumber, half the onion, a green bell pepper quarter, the pimento and 1/2 cup tomato juice. Blend at high speed for 30 seconds to puree the vegetables.
In a large bowl mix the pureed vegetables with remaining tomato juice, 1/4 cup olive oil, vinegar, hot pepper sauce, salt and ground black pepper. Cover mixture and refrigerate until it is well chilled (about 2 hours).
Meanwhile saute the croutons in oil and add the garlic; transfer to a small bowl.
Place remaining chopped tomato, cucumber, onion and green bell pepper in separate bowls. Serve soup in chilled bowls, garnish with chives, and serve chopped vegetables and croutons as accompaniments.
uice and oil in a blender or food processor until pureed. Transfer to a medium bowl, along with remaining ingredients. Season with salt and pepper to taste. Refrigerate until ready to serve. (Can be made several hours before serving.)
Cultures Throughout the History of Spanish Food
Endless cultures, as they passed through or settled in Spain, have influenced the history of Spanish food. The Phoenicians left their sauces, the Greeks introduced Spain to the wonders of olive oil, and Romans, Carthaginians, and Jews integrated elements of their own cooking into that of Spain. However it was the Moors who, during their centuries of reign, most impacted Spanish gastronomy. They introduced fruits and light seasonings into the Iberian diet, as well as combinations of fruits and nuts with meats and fish. Rice- a genuine staple of Spanish gastronomy- and therefore Spain's vast array of rice dishes, come straight from the Moors, as does the use of saffron, cinnamon, and nutmeg. As you eat gazpacho on a hot summer day, thank this clearly gastronomically talented Moorish culture, as it too comes straight from them. Conclusion? Ironically enough, the foods we consider to be "typically Spanish" would either not exist or would be extremely different without the intervention of so many cultures into the history of Spanish food.
The Americas' Impact on the History of Spanish Food
Along with its obvious historical impact, the discovery of the Americas with Christopher Columbus' famous 1492 voyage resulted in the addition of more important elements to the history of Spanish food. As of 1520, foods from the new lands arrived in Spain and immediately began to integrate themselves into the Spanish diet. Amongst the many products that crossed the Atlantic and arrived on Spanish turf, tomatoes, vanilla, chocolate, various beans, and potatoes – which surprisingly arrived in Spain before arriving in Ireland- are all staples of today's Spanish kitchen.
Tortilla de papa
Directions
Place potatoes in a large bowl, cover with cold water, and refrigerate for 30 minutes or so. Drain, pat dry, and season with salt.
Melt butter in a large skillet over medium heat. Saute bell pepper, poblano pepper, and onion in butter until soft. Remove from pan, and set aside. Melt remaining 2 tablespoons butter and bacon fat in pan, and fry the potatoes until crisp and medium brown. Transfer to a plate lined with paper towels.
Preheat oven to 225 degrees F (110 degrees C).
Arrange the potatoes in a lightly-buttered, non-stick pan, preferably a deep, slope-sided skillet. Arrange the onions and peppers over the potatoes, and then spread cheese over the top. In a mixing bowl, beat eggs with water, parsley, and salt and pepper; pour the mixture over the potatoes. Put the skillet in a larger pan with a half inch of water in it.
Bake in preheated oven until eggs set, about 30 to 40 minutes. Remove the tortilla, let cool, and loosen edges from the pan. Put a serving plate over the skillet, and flip the tortilla over onto the plate. Cut into small pie-shape wedges. Refrigerate until ready to serve; reheat if desired.


---

---
Organización, sin animo de lucro, fundada en 1986 por españoles residentes de Washington D.C., Maryland y Virginia, con el fin de reunir a la comunidad española con el propósito de conservar y dar a conocer nuestra cultura, tradiciones, gastronomía, etc. Es con ese fin que se organizan a lo largo del año actividades recreativas entre las que se destacan necesidad de eventos.